 Junior Sailing Day to Day
Junior Sailing Day to Day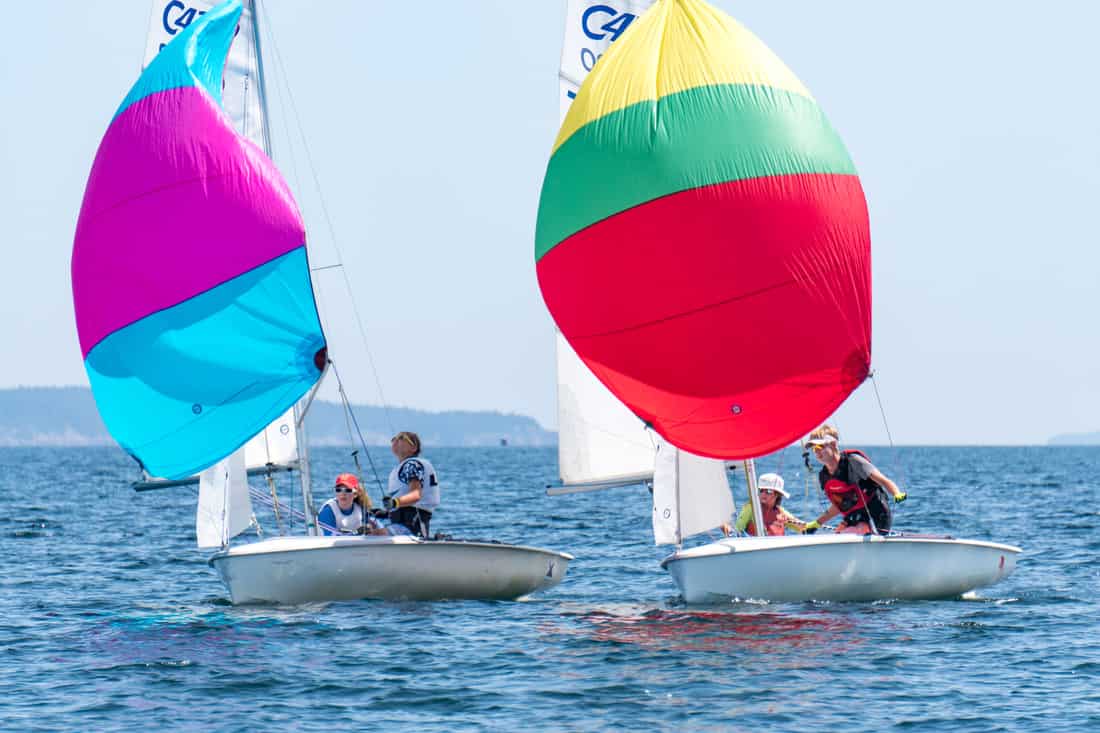 We want our CYC sailors to have an exceptional summer on the water!  As such, we have a few operational, safety and conduct guidelines outlined below.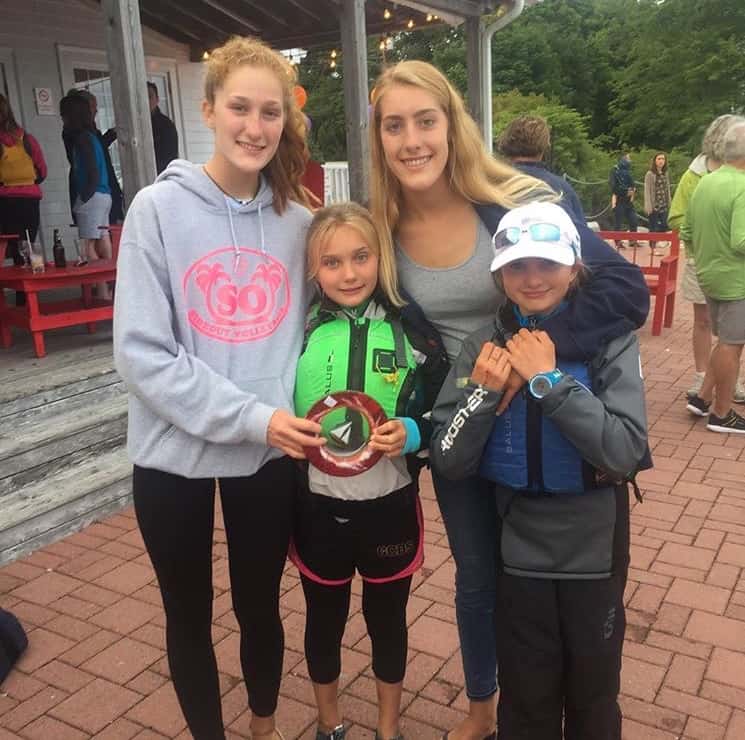 Drop off and Pick up
The CYC Junior Sailing program starts every day with drop off between 9:30 a.m. Rigging will usually start right away! Pick up is at 4:00 p.m. Supervision will not be provided before or after these hours of operation. If your sailor will not be attending due to appointments, illness, etc., please let an instructor know as soon as possible, the morning of, or a day ahead.

What to Bring
Sailors are to bring the below items every day. Please note that flip-flops are not acceptable footwear and all sailors must have closed toe shoes or sailing booties/shoes. The decision to send a sailor out sailing each day will be a decision made by each sailor's coach. If the sailor does not have proper clothing or equipment, including shoes, the coach may decide that he or she should not go out on the water.
No fancy or expensive gear is needed! A PFD, bathing suit, hat, and sunscreen is the best starting point. A useful strategy for clothing is layering: the temperature can be very different on land versus on the water and may change during the day. Quick-dry fabrics and a wind-proof outer layer on the upper body is recommended. Clothes will get wet and salt-stained and the seats of pants and shorts have a good chance of getting torn or ripped. Always please pack a full spare set of weather appropriate clothes and:
Canadian Coast Guard approved lifejacket or PFD
Closed toed shoes (no sandals or flip-flops) – this will be reinforced!
Any medications and instructions for use (if required)
Spray top/rain jacket / foul weather gear, as needed
Towel
Water Bottle
Sunscreen (SPF 30 +)
Bathing Suit
Hat
Sunglasses
We strongly recommend that every item you send with your sailor be clearly and prominently labeled with your family name; items will inevitably get misplaced during the course of the day. If your sailor is taking any medication, please ensure that the LTSD and/or Head Instructor are notified.

Lunch
Please ensure your sailor brings a healthy lunch, a few snacks and a lot of water (in a reusable water bottle, please!).

Safety
Safety is paramount at CYC. Our coaching staff are all certified for First Aid / CPR, Pleasure Craft Operators Certificate, Coach Boat Safety and Radio Operators Certificate. All coaches are insured through Sail Canada.
On the water, coaches carry a Participant Information Form and Emergency Action Plan (EAP) at all times. Each coach boat is equipped with all Transport Canada required safety equipment and an updated first aid kit and a VHF radio. All instructors are required adhere to all Club safety requirements and EAP procedures. Depending upon the severity of the accident or incident, the Club's Emergency Action/Response Plan may be activated.
If an injury is serious, emergency responders may be contacted, a parent or guardian will be notified immediately and the individual may be brought to the local emergency department. An instructor will accompany the sailor to the emergency department and bring their Medical Form.
Emergency numbers are posted next to all phones. Sailor Medical Forms are on file in the Sailing Office.
Any injury to a sailor or instructor will be reported in writing on the appropriate Accident/Incident Report Form. The form will be completed by the instructor involved in the incident and the LTSD. Copies will be filed in the Sailing Office on the day of the occurrence and a copy of the report will be retained by the instructors involved. The Accident/Incident Report will establish the facts as they occurred and the actions taken by the staff while dealing with the accident. Procedures for reporting any accident, minor or major, are strictly enforced.

Weather
Sailing is a complex sport to master and it's important that students feel comfortable with their skills and within the boat. It is also important that sailors learn to respect and appreciate the power of the environment in which they sail. Wind, waves and current are some of the aspects that make sailing so exhilarating, but they can be factors that can make sailing quite frightening for the inexperienced sailor.
Maintaining a fun and safe learning environment is our main priority and, as such, when wind speeds exceed 15 knots, it is at the discretion of the instructor to decide whether the Wet Feet and CANSail 1 program will go on the water. If there is excessive rain, we will also not be going out on the water. On these days, we will play sailing related games as well as provide sailing land lessons, such as what to wear when sailing, tying knots and reading the wind.

Outboard Motor Propeller Guards
An unprotected propeller of an outboard or inboard/outboard motor can cause serious injuries. All CYC coach boats are equipped with "prop guards" to add an important margin of safety for our sailors.

Swimming
CYC is very lucky to be located on beautiful and clean Mahone Bay. Our sailors will, inevitably, hop in "the drink", and swimming off our docks during lunch and at the end of the day is a favourite past time. In order to keep everyone safe, we ask that all sailors abide by the following rules for swimming during Junior Sailing:
Sailors must look for any boats or tenders that might be coming or going from the CYC docks and floats
All jumping must be feet first and there will be no throwing or pushing friends into the water!
Sailors in Wet Feet and CANSail 1 must wear life jackets/PFDs when swimming and jumping off any dock
Sailors in CANSail 2 and up will have their swimming ability assessed by the Head Instructor
All students, regardless of age or number of years in a program, are required to take a swim check on the first day of the session. The purpose of the swim check is for students to become accustomed to being in the water with their life jackets on and for instructors to get an idea of the sailor's swimming ability.

Daily Equipment Check and Maintenance
A daily check of all equipment and procedures is in place to fix anything that is broken or compromised. Equipment such as club-owned boats and coach boats will be checked before each class and again at the end of the day. The Boat Maintenance & Incident Log will be used by the Water Operations Supervisor to track the condition of each item, along with its maintenance schedule, and the type of work that was done. If a boat is determined to be unsafe, it will be immediately taken out of service and fixed before it is returned to service. If a piece of equipment is broken, it will be immediately repaired and a maintenance report will be maintained.

Electronics Policy
We have a 'no electronics' policy and we expect our instructors to lead by example.
This policy is in place for several reasons. Firstly, such devices are distracting. The CYC Junior Sailing program strives to encourage sailors to live a fun and active lifestyle.
Devices such as mobile phones, iPads and iPhones are a distraction during lessons and negatively impact the sailing experience. Second, the building is not secure during the day, and as such we cannot guarantee the safety of such sought-after devices. Finally, sailing is wet! Sailors have the tendency to bring half the ocean in with them when they get in from sailing and such an environment is not ideal for expensive electronic devices.
We have a phone in the building that sailors can use in the event that they need to call their parents or guardians. If you would like your child to have a cell phone during the day, that is of course fine. We simply ask that it is kept in their bag during sailing hours. The program takes no responsibility for any loss or damage of the device. Instructors have permission to put away any devices until the end of the day that are out during the hours of 9 a.m. to 4 p.m.
Parental Support
Parent volunteers are a vital part of the success of our program. We have a number of activities throughout the course of the program that will sometimes require extra help from you, the parents. Things like potlucks, theme days (with costumes!), Isabel's Cup and the junior dance all require a few extra hands or volunteers and we welcome participation from our sailors families.

Regattas
CYC encourages development of excellence in sailing through participation in area regattas. To that end, the Junior Program will support those individuals who wish to attend appropriate junior sailing events. These events include but are not limited to events held at Bedford Basin Yacht Club, St. Margaret's Bay Yacht Club, RNSYS, Opti Jam, Sail East, and the Club 420 Race Circuit. These regattas are another aspect of our Junior Sailing program that require parental support. The amount of involvement, and the distance of travel, varies by regatta, where sailors will be training at other locations (Bedford, St. Margaret's Bay, LYC, etc.). Carpools are often as fun as the regatta itself (well, maybe not AS fun…but almost) and to make this happen, we need help with coordination and drives.
The LTSD will decide which regattas, if any, will be feasible to attend based on interest, timing and staffing. The LTSD will ensure that both coaches and parents fully understand the regatta policy and therefore their responsibilities and duties.