The Chester Yacht Club is located on Mahone Bay which is along the south shore of Nova Scotia, Canada. The Bay is dotted with many Islands (some say one for every day of the year) which makes for beautiful sailing and boating of all kinds. Chester has a long history of yacht racing. Below is an excerpt from the book, History of Chester 1759
– 1967.
"On Sept. 4th 1856, a grand regatta was held at Chester. I believe this became a yearly event for quite some time to come. This first regatta, as we are told in DesBrisay's History, was quite an event with more than 3000 persons present. There were seven different boat races conducted ranging from gigs of 4 oars, flats, punts, canoes and sail-boats. The winners all getting prizes of money. The regatta terminated with general illumination, fine torchlight procession and a beautiful display of fireworks."
CYC races were first held in the Back Harbour as shown in this Early Photograph.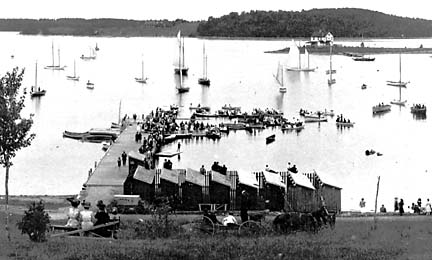 Previous to the Yacht Club, races were held from the Back Harbour. (Little Fish and Gooseberry can be seen
in the background.) Note the boats at the moorings with their sails up. The race started from the wharf. At the start the crews would row to the waiting boats.
Today the highlight of the racing season is Race Week. Taking place in August it is hailed as the largest fixed
keel regatta in Canada. Racing now takes place in front of the CYC Club House. This section from a Chart shows Chester Harbour and the location of CYC. Following is an aerial view of the club house.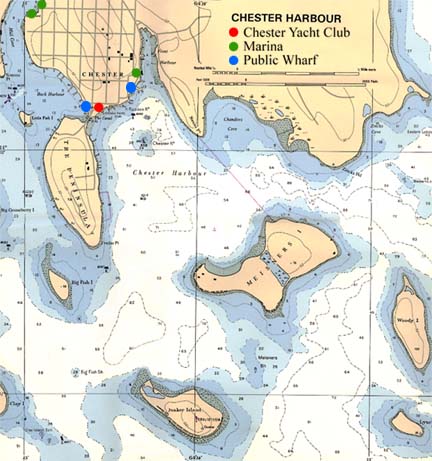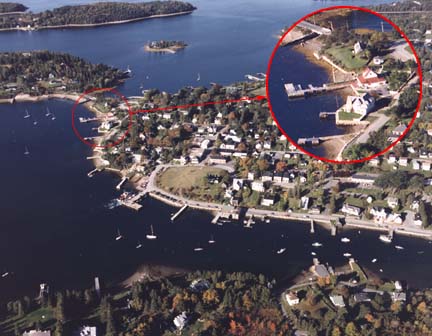 A view of the village looking west taken in the fall of 1993. At the top left Big Gooseberry and Little Fish Islands. The Front Harbour can be seen in the bottom of the photo. The inset shows CYC (red roof).