What must the student provide?
Lunch, Canadian approved personal flotation device in good condition (to be inspected by our instructors), clothing appropriate to weather conditions or wetsuit, rubber soled shoes (sandals not permitted), towel, change of clothes, hat or UV protective sunglasses and minimum SPF 15 suntan lotion.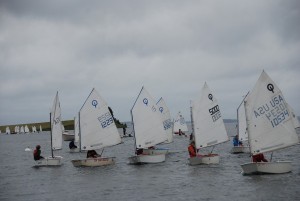 Who can register?
Students must be 6 -17 years old (depending on the program) and be able to swim 45 meters (50 yards) or be comfortable in a PFD. All sailors will be evaluated by their coaches . Programing placement is at the sole discretion of the coach and Learn To Sail Director.
Racing
CYC fully supports the participation of its Junior members in racing. This activity predominently occurs outside normal session periods and requires a significant commitment in time, energy and money from the sailors and their families. CYC provides for and pays the coaches a per diem rate for attendence at regattas. Additionally we make boats available to race and provide access to our club trailer, and coach boat. Parents are responsible for ALL other costs associated with the regatta; including but not limited to: registration fees, coaches fees, meals, transportation to and from the event, and accommodation. Please look under NEW & EVENTS for list of dinghy racing dates.
What do students do during inclement weather?
If the sailing conditions are safe, then we go sailing. Students should dress appropriately for the weather. In extreme conditions, students study theory, work on fitness, and play program related games on shore.
What if my child can't attend the whole session?
Now that our programs are only two weeks it is imperative that students attend the entire session. Attendance during the first week of any session is mandatory. Please choose a session that your sailor is able to participate in all days of the session. Other than the Optimist programs, our boats are 2-handed. If a student arrives late or leaves early, another student will be without a crew.
What if the session is full?
A waiting list will be created to take advantage of cancellations. Swimming, tennis, English & Western riding are available in the area.
Do Chester Yacht Club members have any benefits?
An earlier registration is offered to Senior members' children. To qualify the child must have a parent with either a Senior Couple or Senior Family membership.
Membership category: Senior Couple or Family registration is open from 01 April 2018
General public from 21 April 2018 onwards.
For club membership information Club Manager [email protected]
All program participants are required to pay a membership fee.
Participants with parents with a Senior Couple or Senior Family membership are exempt from these fees.
Can my child bring their boat to the program?
Yes, but it must conform to boats used in the program. A private boat does not guarantee a place in the program, as student/teacher ratio is limited. See Boat Classes for boat descriptions.
Is there a Damage Deposit?
Yes, the implementation of a credit card imprint, to be kept on file with the Club Manager, has reduced careless damage to boats, resulting in less costs to the program and keeping fees down. Parents will be contacted should an incident occur. The charge is dependent on the amount of damage.