CYC Members:
This is CYC's closing week and we end the season with our annual Turkey Bowl FFA on Saturday, October 1 (Turkey Bowl SI's below)
After the race, we will have our complimentary turkey spread for CYC members and guests.
We will ask all attending to raise a glass of Cheer in memory of B & Sandy Spahr, who donated the Turkey Bowl Trophy in 2004.
Annual Award Presentations of all completed Series for this sailing season will follow Turkey Doo @ 1800
Skippers, if you are unable to attend please have a representative retrieve your keeper(s). 
Message from Flag Officer Trophies Sue McAlpine:
On October 1st following racing and feasting, we will present keepers for the 22 trophies that were raced for this past season.  This is a sailor's night as we honour you and your achievements, so please make every effort to attend.  If you are unable to attend,  provide a representative as your stand in.  Next year Chester Yacht Club will celebrate 115 years of racing since the club's incorporation.  Maybe something different will be in the offing!
CYC this week:
CLUB CLOSED Today, Wednesday & Thursday this week
Thursday, September 29 (CLUB CLOSED)
Absolute Bloody FINAL Thursday Race     FFA  1800 Start
Finish at ROPE LOFT wharf
Hosted by ROPE LOFT    Thanks Derek & Elaine!
CLUB CLOSED
No Club Tender Service
Friday, September 30
Club opens at 1700
LAST Hors d'oeuvres of the Season  1800
Please bring a small plate of your favourite hors d'oeuvre to share with your fellow members for the last Friday evening of the season
No Club Tender Service
Saturday, October 1
Club opens at 1100
TURKEY BOWL        1330 First Start
Turkey Bowl Sailing Instructions:  turkey-bowl-sis-2016-v-2
Turkey Doo     1700
ANNUAL AWARD PRESENTATIONS of completed Series for Season 2016      1800
Club Tender Service 1100 – 1800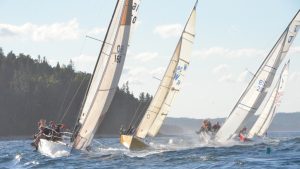 Heather McGuire Photography — Thursday evening racing at CYC