LADIES little BLACK DRESS NIGHT
Tuesday, July 9, 2013     6-9 p.m.
Chester Yacht Club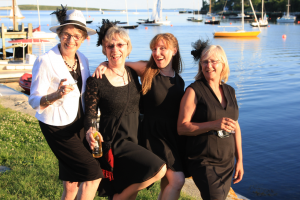 Ladies… it's that time again to iron off, dust off or borrow that itty bitty or plus size black dress and join the girls at the Chester Yacht Club for an evening of shopping, eating, music, laughter and good times.  This year we're pleased to have a caricaturist from Halifax who will gladly do your caricature for a donation.  He's pretty darn good…and what an awesome Christmas gift to give hubby or the kids this year!  We've got a few regular vendors back but there will be new faces and new products so bring your change purse as you're sure to find something unique and one of a kind.  Speaking of one of a kind, Singer Songwriter and 2012 Women of Excellence Award Winner,  Lana Grant will be sharing her voice, her inspiration and her newest project – Musicians, Memories and Morsels.  It's an East Coast Story Cook Book with some recipe favourites from a unique cast of Maritime musicians. Lana will perform for us @8:00.
 We'll also be having a auction, giveaway some door prizes and we'll have a wine tasting of some new [yellow tail] varietals.
This year's vendors include:
Sea Dog Bag, Tidedancer Jewelry Design, Good Natured Gourmet Fruit Pops, Gwen Hamm, Arbonne, TAMMACHAT Natural Textiles, Sandals by Gregory, The Hat Junkie and who know who else will join us!
 Your $25 ticket included, a glass of sparkling wine of Sangria, food, entertainment and a great night out with the gals.
 Net proceeds will be used to start a birthday basket program for the Lighthouse Food Bank.  See details at the Yacht Club.
Please reserve your ticket by emailing Sandy Morash at [email protected] or by calling 275-4441. Or call the Chester Yacht Club at 275-3747.  You can pick your ticket up today or we can keep it at the bar until the night of our ladies soiree.
 PLEASE RESERVE BY SATURDAY, July 6
Hope to see you ladies there.