Dinghy Racing Dates for 2015:
YOTS From Jul 09, 2015 to Jul 10, 2015 At Bedford Basin Yacht Club
ARK Regatta From Jul 11, 2015 to Jul 12, 2015 At Bedford Basin Yacht Club
Bay Wind Regatta & Sail East From Jul 17, 2015 to Jul 19, 2015 At St. Margaret Sailing Club
Sail Fest From Jul 29, 2015 to Jul 30, 2015 At Lunenburg Yacht Club
Bras d'Or Race Week From Aug 03, 2015 to Aug 08, 2015 At Bras d'Or Yacht Club
Opti Jam From Aug 05, 2015 to Aug 06, 2015 At Chester Yacht Club
2015 Youth Nationals From Aug 09, 2015 to Aug 13, 2015 At Kingston, Ontario
Senior National Championships From Aug 14, 2015 to Aug 19, 2015 At Kingston, Ontario
Bamse Cup From Aug 19, 2015 to Aug 20, 2015 At Dartmouth Yacht Club
Kennedy Cup From Aug 22, 2015 to Aug 23, 2015 At Royal Nova Scotia Yacht Squadron
Make Waves for the IWK From Sep 26, 2015 to Sep 26, 2015 At DeWolfe Park, Bedford
Opti Provincials From Sep 26, 2015 to Sep 27, 2015 At Hubbards Sailing Club
Fall Dinghy Championships From Oct 17, 2015 to Oct 18, 2015 At Royal Nova Scotia Yacht Squadron
Opti-Jam:
Opti-Jam is an Optimist dinghy regatta hosted at Chester Yacht Club for sailors of all levels of experience including beginners.
2016's Regatta is Wednesday, August 3rd & Thursday, August 4th.
Chester Opti Jam Registration 2015
Junior Calendar:
Tuesday BBQ Lunches:     
In 2015 our Tuesday BBQ Lunches (at Noon) continue, they are open to parents of the Junior program
and CYC members.  All profits go to help with the Junior Dance on Wednesday, July 29th.
Learn To Sail Report Winter Newsletter January 2016
As 2015 winds down, I think back on the wonderful season we had with learn to sail and all of the great people that were involved. With over 200 registrations it was a busy season and without the help of Kim it would not have been possible. Along with regular programming we attended regattas in the province producing great results.
Every year our program continues to grow in both quantity and quality. This year we had 9 coaches with volunteer coaches coming and going throughout the season. With more sailors and more coaches it leads to more boats, this year we had 9 coach boats (RIB's), 8 420's, 22 opti's and 5 echo's . Our opti program was expanded thanks to a boat donation from the Totman family. All this culminates to CYC having one of the largest Learn To Sail programs in the province.
With the program growing with more boats and gear there becomes a responsibility to maintain and at times replace boats and gear; this however takes money and resources. The money generated through registrations covers the operational cost of the program but we rely solely on the Junior fundraiser for capital expenses such as replacing boats and gear. This year the Jr fundraiser was a success and was organized by Sue Anne Graham with the proceeds going towards expanding the 420 fleet. Now, of course this would not have been possible without the help of parents and friends of the program as they are the people donating their time and money to the cause.
As always Opti Jam was another huge success with over 90 boats attending making it the largest opti regatta in the province. A big thank you to Ray Cambria and Trish Finlay for their race management skills and running two courses and multiple fleets and the countless volunteers both on land and water. Once again I will ask if anyone is interested in chairing this event to please come forward and contact Kim or myself.
Well as I said before the 2015 season for CYC Learn to sail program was a huge success and I thank everyone who was a part of it from sailors to coaches and especially parents who volunteer their time and resources to the program. I look forward to the 2016 season and if you have any questions regarding the Learn to sail program please feel free to contact Kim or myself and also check out the learn to sail website which can be found at www.chesteryachtclub.ca for all information regarding the program.
Warren Barkhouse Learn To Sail Manager [email protected]
Kim Johnson Administration [email protected]
CYC Junior Sailing News:
The 2014 Canadian Optimist Dinghy Championships were held at Lunenburg Yacht Club (Aug 16-22)& our CYC team won 2nd place in the team racing competition, which was amazing, considering some of the kids had never team raced before. It was a true underdog story.
Connor Mraz represented our junior sailing program well, and is the new Canadian Optimist Champion! Will McInnes was an impressive 7th overall!  CYC is very proud of all our Junior Sailors.
Championship Race Results http://lyc.ns.ca/racing/racing2014/2014OptiChamp.htm
Green Fleet Results http://lyc.ns.ca/racing/racing2014/2014OptiGreen.htm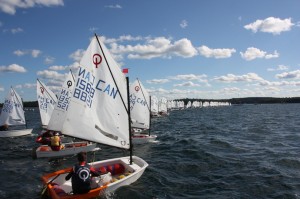 Sphar Cup Results 2014: 
420:
1st Grace Cangiano and Grace Walmsley
2nd Gareth Connolly and Julie Mosher
3rd Henry Bowen and Henry Gauthier
Opti:
1st Jeb Bechtel
2nd Ellie Blain
3rd Gabe Ewsuk
BBYC ARK Regatta 2014 Provisional Results
A Fleet   Sailwave results for ARK Alpha Course –
B Fleet   Sailwave results for ARK Bravo Course –
Green Fleet   Sailwave results for Green Fleet 2014
Regattas:
Throughout the summer there will be several weekend regattas at nearby yacht clubs which CYC Junior Sailors have successfully participated in past years. These regattas will be posted in our notice board on the boat shed. If there is sufficient interest from Junior Sailors and their parents (for car pooling) then we will form race teams to compete. Like our own Opti Jam these regattas are a fun way to improve sailing skills. These regattas have been included in our Calendar. If you are interested in racing at these regattas you can check out the NSYA website calendar for more detailed information.  See Dinghy Racing dates above.
 NSYA Events Calendar  (Tip: select "Dinghy" as the Category)
CANSail Dinghy Programming
CANSail Dinghy Program Introduction and Delivery